Se mouvoir dans l'archive / Moving through the archive
The FJPP is very pleased to be participating in the project Se mouvoir dans l'archive/ Moving through the archive, a production by Galerie UQO with choreographer, dramaturg and dancer Hanna Sybille Müller.
In the fall of 2019, director/curator Marie-Hélène Leblanc invited Hanna Sybille Müller to work with the visual and textual archives produced by Galerie UQO since its foundation in 2015. Her contemporary dance interpretation of the projects, activities, movements, and administrative archives of the gallery and the people who work with it is part of a willingness to question the medium of the exhibition and everything that is inherent to it.
Over the course of the one-year project, we'll be featuring the series Carnet d'une chorégraphe (A choreographer's notebook)—a collection of gifs and short texts revealing the artist's research and creative process, as well as the final performances. In tandem with collaborators Nate Yaffe and Lauren Semeschuk, Hanna Sybille Müller explores a variety of themes, including bodies during the COVID era, non-movement, and haptic documentation.
Galerie UQO is a university gallery committed to the development and enhancement of contemporary artistic and museum practices in Quebec, Canada and internationally through research, creation, education and dissemination.
Hanna Sybille Müller is a choreographer, dramaturg and dance artist living in Montreal. Her work focuses on language, movement and its interrelationships. She is interested in the strange, magical and ordinary potency of both language and the body, and how they affect each other.
More information on the project here: https://galerie.uqo.ca/evenements/20200916
A Galerie UQO production in collaboration with the Fondation Jean-Pierre Perreault
---
May 17, 2021, in studio, Montreal
Movement 22
Moving towards a colloquium. Working with an archive makes me realize in a very practical way how archiving is "decision making" about what to remember, what to see (again) and how the present moment always influences the archive in its new form.
Colloquium 𝘉𝘦𝘤𝘰𝘮𝘪𝘯𝘨 𝘵𝘩𝘦 𝘞𝘰𝘳𝘬. This week!
https://www.facebook.com/events/552750299027011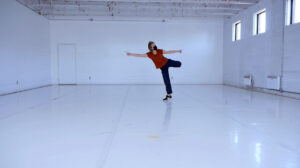 ---
May 10, 2021, in studio, Galerie UQO
Movement 21
The gesture of the vinyl. This is just one of the many gestures that the team of Galerie UQO performs when mounting an exhibition. There are many gestures involved to create an event that names itself a gallery. Thanks to Jérémie Roussel, Jessica Minier, Marie-Hélène Leblanc, Jessica Ragazzini, Jessica Arseneau and Mirna Boyadjian.
« Ce qui caractérise le geste, c'est qu'il ne soit plus question en lui ni de produire ni d'agir, mais d'assumer et de supporter. Autrement dit, le geste ouvre la sphère de l'éthos comme sphère la plus propre de l'homme. Mais comment une action est-elle assumée et supportée ? Comment une res devient-elle res gesta ; et un simple fait, un événement ? »
Giorgio Agamben : « Notes sur le geste » (10 May, 2021)
Archival photos: Jessica Minier
---
May 3, 2021, in studio, Montreal
Movement 20
Dancing curation. I'm working with five 𝘌𝘮𝘣𝘰𝘥𝘪𝘦𝘥 𝘈𝘳𝘤𝘩𝘪𝘷𝘦𝘴. Five propositions to pull you into the experience of the artist, their, her, his work and into the curation of the past five years of Galerie UQO. Another residency reported, which is sad, but it also allows to dig deeper, which is joy (not only but in the end, I believe it will feel like joy).
𝘊𝘩𝘦𝘳𝘤𝘩𝘦𝘳 𝘭 '𝘰𝘶𝘷𝘦𝘳𝘵𝘶𝘳𝘦 – 𝘚𝘦𝘢𝘳𝘤𝘩𝘪𝘯𝘨 𝘧𝘰𝘳 𝘢𝘯 𝘰𝘱𝘦𝘯𝘪𝘯𝘨 is the work that the Gallery devoted its time and energy to. The gallery itself is closed but at the moment its past exhibitions are emerging in several dance studios in Montreal.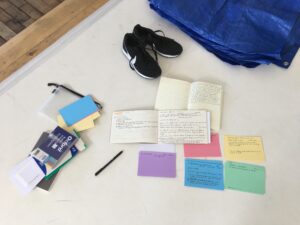 ---
February 22, 2021, in studio, Montreal
Movement 19
I'm revisiting the dis/embodies archives and my notebook. There is a circular, vibrating, pulsating movement coming back. I also found a question: How can (art) curation vibrate? How far can it go? Sometimes I wish I could leave visual traces in the space that I'm moving through, but while writing this I realize I actually don't. I rather believe in the agency of the viewer. They might bring the dances to far more places that I can't even imagine. Well, if the dance is inviting…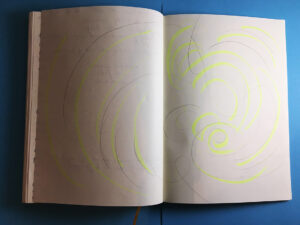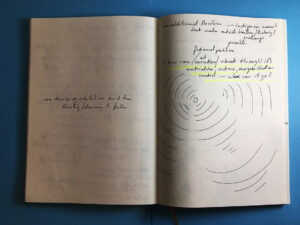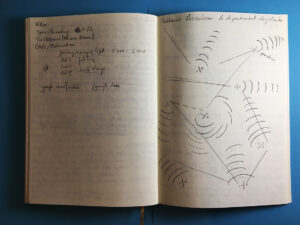 ---
February 15, 2021, in studio, Montreal
Movement 18
Saying things out loud can be a practice, a practice to see how you relate to what you have said. Thinking something and saying it, is very different, sounds different, feels different. I met two people that consider « saying things out loud » as part of their practice: Rabih Mroué and Susan Redhorst.
Today this practice transforms into my social media image practice. I post something to see how I will feel and think about it in a few days.
---
February 8, 2021, in studio, Montreal
Movement 17
𝗗𝗶𝘀/𝗲𝗺𝗯𝗼𝗱𝗶𝗲𝗱 𝗮𝗿𝗰𝗵𝗶𝘃𝗲 𝗡𝗼. 𝟱 – « 𝗧𝗵𝗲 𝗣𝗶𝘅𝗲𝗹𝗮𝘁𝗲𝗱 𝗥𝗲𝘃𝗼𝗹𝘂𝘁𝗶𝗼𝗻 » 𝗯𝘆 𝗥𝗮𝗯𝗶𝗵 𝗠𝗿𝗼𝘂𝗲́.
The work was exhibited in January 2018 at Gallery UQO.
The work by Rabih Mroué is sharp, analytical, poetic and full of details. It's about the Syrian war, the Syrian protesters. It's also about shooting, shooting guns, shooting images. I describe what was exhibited. I'm looking for the paratext of this exhibition.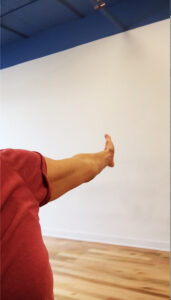 ---
January 25, 2021, in studio, Montreal
Movement 16
Sometimes during a process, I want my body to dissolve, to create another image, another me, another brain, another thought. Longing for a COVID-free, republican-, conservative-, pollution, colonialism- free world. Then again me with my camera in a studio in Montreal.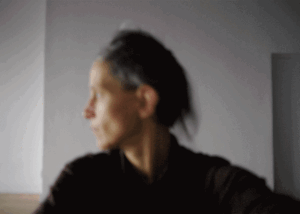 ---
January 19, 2021, in studio, Montreal
Movement 15
𝗗𝗶𝘀/𝗲𝗺𝗯𝗼𝗱𝗶𝗲𝗱 𝗮𝗿𝗰𝗵𝗶𝘃𝗲 𝗡𝗼. 𝟰 – "𝗖𝗼𝗹𝗹𝗮𝗯𝗼𝗿𝗮𝘁𝗼𝗿𝘀 𝗖𝗼𝗹𝗹𝗮𝗯𝗼𝗿𝗮𝘁𝗶𝗻𝗴" 𝗯𝘆 𝗔𝗵𝗺𝗲𝘁 𝗢𝗴̆𝘂̈𝘁
This work was part of the group exhibition « Re: Working Together » that was organized in collaboration with the Carleton University Art Gallery (CUAG).
Ahmet recorded some questions for the symposium. His first question was: Where does an artwork and role of an artist's begin and end? His last: How can we sustain the idea of fun and joy as a concept in projects that are directly about very fresh struggles? There were 13 questions. How to dance these questions and answers?
Nate, Lauren and I answered these questions collectively and then developed a dance score using the working method that I learned from plischke&deufert. They call it "formulating and reformulating": "Notebooks circulate in the studio for long periods of time among the collaborators involved in the process, with their texts always being reformulated by someone else." (Peeters, Jeroen. Restless portraits. On deufert & plischke's Reportable Portraits. In: Peeters, Jeroen. Through the back. Situating visions between Moving Bodies. P. 235-250)
Then we danced the scores.
---
January 11, 2020, in studio, Montreal
Movement 14
Last June, Galerie UQO announced that it would close for the coming year, and therefore suspend its scheduled exhibition program. The season is dedicated to research, no exhibition, no public event, so no dance performance. This project had to become a video dance project. I'm a "live" performer, my whole approach and thinking is around the "live" aspect, live, live, live. I was frustrated but I took the camera with me to the studio to get used to my new collaborator. Then this "collaborator" overexposed my dance and made me float. When the camera decided to have its own agency, my thinking of making a video dance changed. Or was it an accident?
---
December 17, 2020, Montreal
Movement 13
𝗗𝗶𝘀/𝗲𝗺𝗯𝗼𝗱𝗶𝗲𝗱 𝗮𝗿𝗰𝗵𝗶𝘃𝗲 𝗡𝗼.𝟯 "𝗟𝗲 𝗱𝗲́𝗽𝗮𝗿𝘁𝗲𝗺𝗲𝗻𝘁 𝗱𝗲𝘀 𝗽𝗹𝗮𝗻𝘁𝗲𝘀 𝗱𝗲 𝗯𝘂𝗿𝗲𝗮𝘂" 𝗱𝗲 𝗖𝗮𝘁𝗵𝗲𝗿𝗶𝗻𝗲 𝗟𝗲𝘀𝗰𝗮𝗿𝗯𝗲𝗮𝘂
Catherine knocked on all doors of the offices in the Université du Québec en Outaouais to see if there is a plant and if yes, she took a photo of these plants. The photos often show the plants in a window. Inside the tropical plant and outside a parking lot, a small tree, a lawn, an industrial landscape.
Who is inside? Who is outside? What surrounds us inside? What surrounds us tells us about us. What are our insides and outsides and how do we relate to them? When I move, I move in relation to the outside but I mainly move from my inside – my cells, the tropics of my intestines or the desert of my nervous system, the vastness of my skin.
Inviting something from the outside to the inside. Catherine Lescarbeau invited the department of finances to be part of her exhibition at Galerie UQO. A new connection was made. Today I invited the roofscape of Montreal to my hands.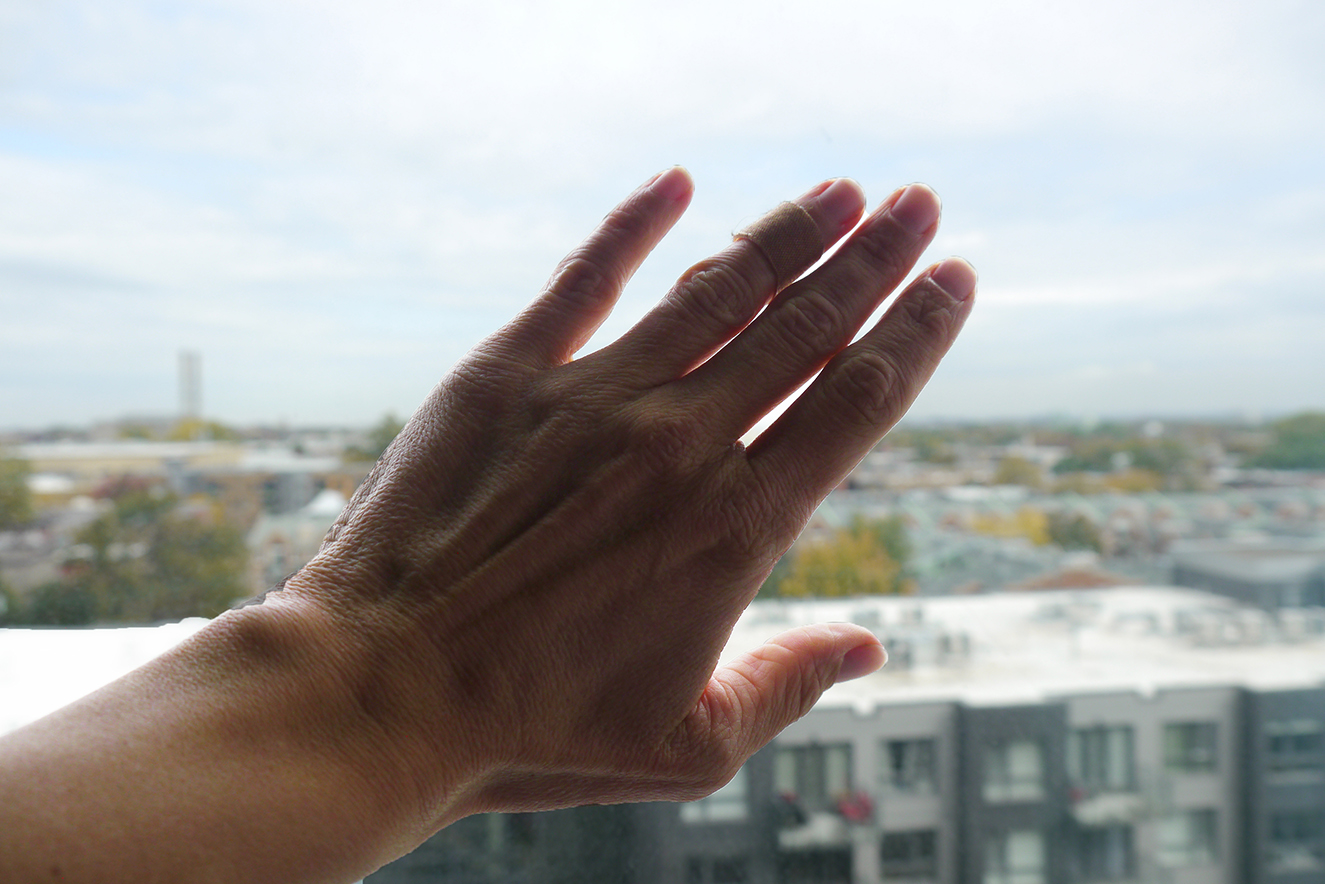 ---
December 10, 2020, Montreal
Movement 12
While working with Nate and Lauren, I make much less notes and photos. My whole being is immersed in process. It feels like a spiral of information arriving, layering, being forgotten, remembered otherwise. Material made of moves, emotions, talks, laughs, words, formations and accidents. I feel present and the work feels present. Bringing the Embodied Archive No. 1 La Contrainte into another phase. 3×3 moves. Can you see them? It feels good to do the same order.
---
December 3, 2020, Montreal
Movement 11
On the t-shirt the German word Lust
Lust = delight, desire, lust
Lust = plaisir, envie
This screenshot talks a lot about what ca choreographic process is about: working with others, brilliant people, smart and wild collaborators who listen, twist, rotate, question, layer the work and the perspective and who make the unknown appear. Thanks to Nate and Lauren for the 1,5 weeks we had. That was amazing.
---
November 26, 2020, Montreal
Movement 10
Abstraction
One definition in my dictionary: the quality of dealing with ideas rather than events.
Dancing ideas that do not become events.
Abstracting movements from my body.
I often find myself "doing words".
The score for the disembodies Archive No 2 are the numbers 1 to 232, some of the encircled. The rhythm does not feel smooth yet.
By Hanna Sybille Müller
---
November 19, 2020, Montreal
Movement 9
Looking at the decision's others made, I made and I'm making.
Imagining that I'm participating in a workshop with Sheena Hoszko.
Moving through the archive.
Working daily with dance, words, movements is a luxury practice and my only possible one. In this time of a pandemic, I'm so happy that I met many beautiful and inspiring artists, magic movers, incredible writers, I'm full of discussions, poems, images, ways of doing things but I also miss people that have deeply influenced me, especially in looking at and facing daily practice. Eva, I miss the Feedback Sessions.
---
November 12, 2020, in studio, Montreal
Movement 8
Listening. Listening to what resonates.
In the podcast produced by Galerie UQO Sheena Hoszko talks about her project «Établissement de détention de Hull : 232 Beds». She describes her work and her project. She says something like: The project is rather cold, It's data, facts and statistics. This really resonated with me also because through her talking I was rather emotional than feeling cold and it made me want to work with "hot facts" you could say emotional facts. One fact of my collection: 2 seconds can last a kiss or a hug during a "contact" visit. There are also non-contact visits where inmates and visitors are separated by a glass partition.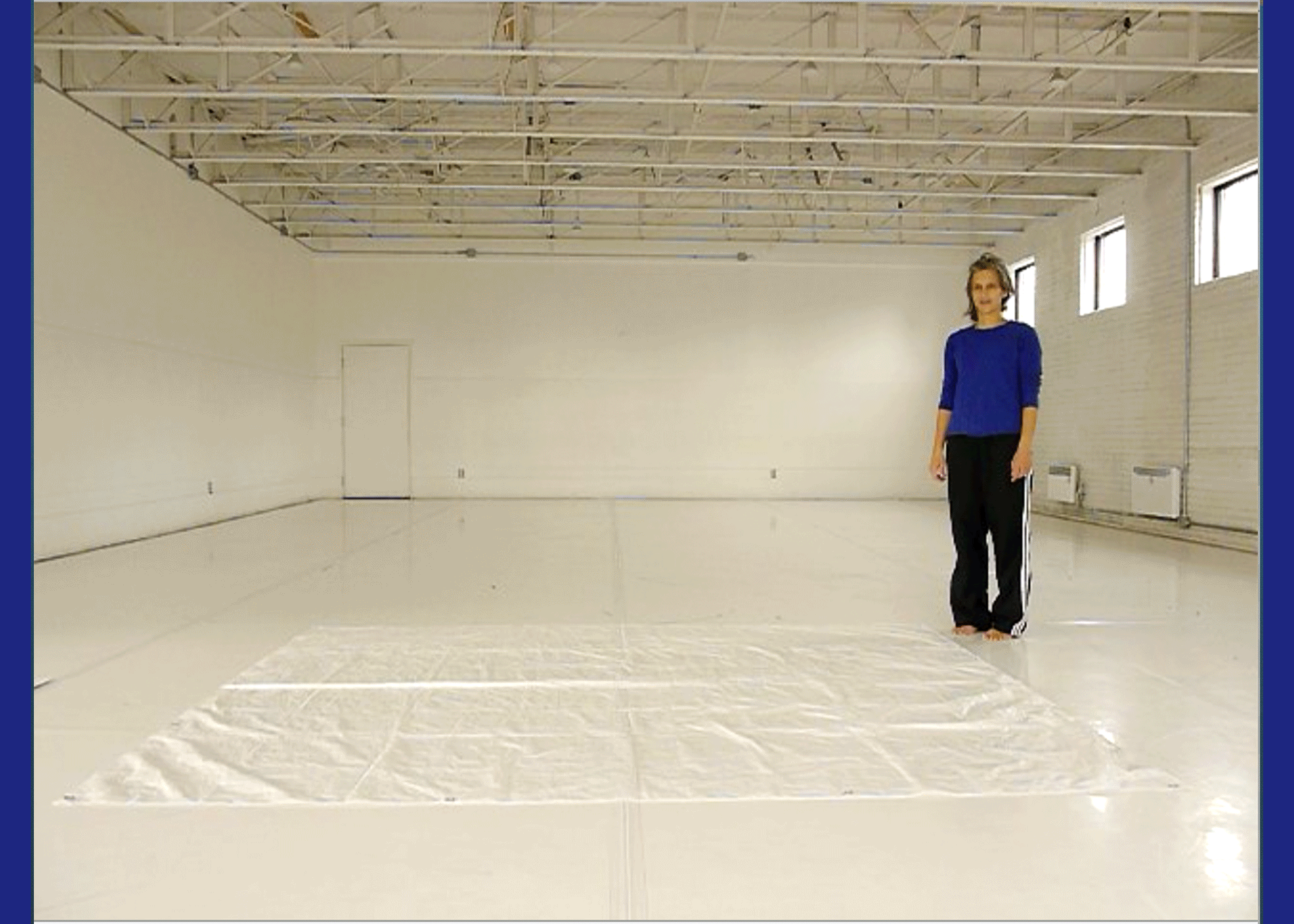 ---
November 5, 2020, Galerie UQO
Movement 7
Residencies cancelled, reported, planned anew, cancelled again and then it actually did happen. I feel like a bottle of hand sanitizer but I'm also filled with conversations and images. I looked at the archival matters, found the 232 blue tarps of Sheena Hoszkos exhibition Établissement de détention de Hull : 232 Beds – the last one before the gallery shut down – and collected gestures. Jeremys dance of the vinyl was magic. Thanks to all the masked humans working in, around, for and with Galerie UQO and thanks to AXENÉ07 for hosting me.
---
October 29, 2020, Galerie UQO
Movement 6
Repetition is maybe one basic tool I use often/always to make or think about dances. It also was one of the words or concepts that Simon Guibord worked with, creating the first exhibition for Galerie UQO. I have a book of Gilles Deleuze titled Repetition and Difference. One of those books I want to read entirely but when I actually start reading it, I can only read a few sentences and then my mind starts spinning so that I don't get any further. It's so dense that it asks for breaks so I'm also working on pauses.
Here one of those sentences:
"In every respect, repetition is transgression. It puts law into question, it denounces its nominal or general character in favour of a more profound and more artistic reality." p.3, Repetition and Difference. Bloomsbury, London 2014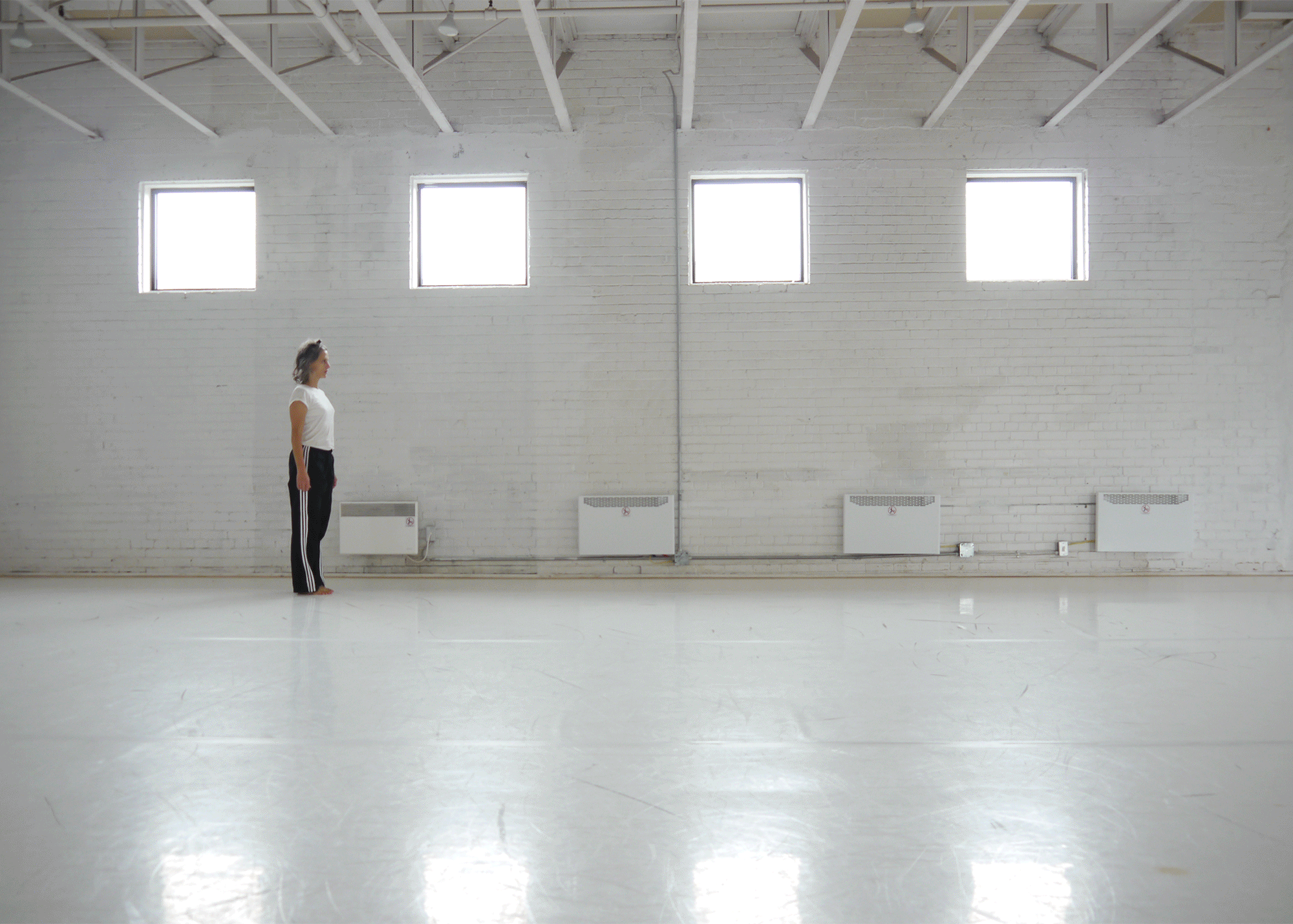 ---
October 22, 2020, Galerie de l'UQO
Movement  5
One of the biggest constraints for this project is that I'm documenting my own movement. This produces a lot of empty, blurry and half-out-of the frame images. So, it is a little fake and out of focus but it's also real. While writing this I'm thinking of my friend Andrea de Keijzer. A while ago she had sent me an article about Haptic Visuality by Laura U. Marks called Touching with the Eyes. "Haptic visuality sees the world as though it were touching it: close, unknowable, appearing to exist on the surface of the image. Haptic images disturb the figure-ground relationship."
I think I might practice haptic documentation…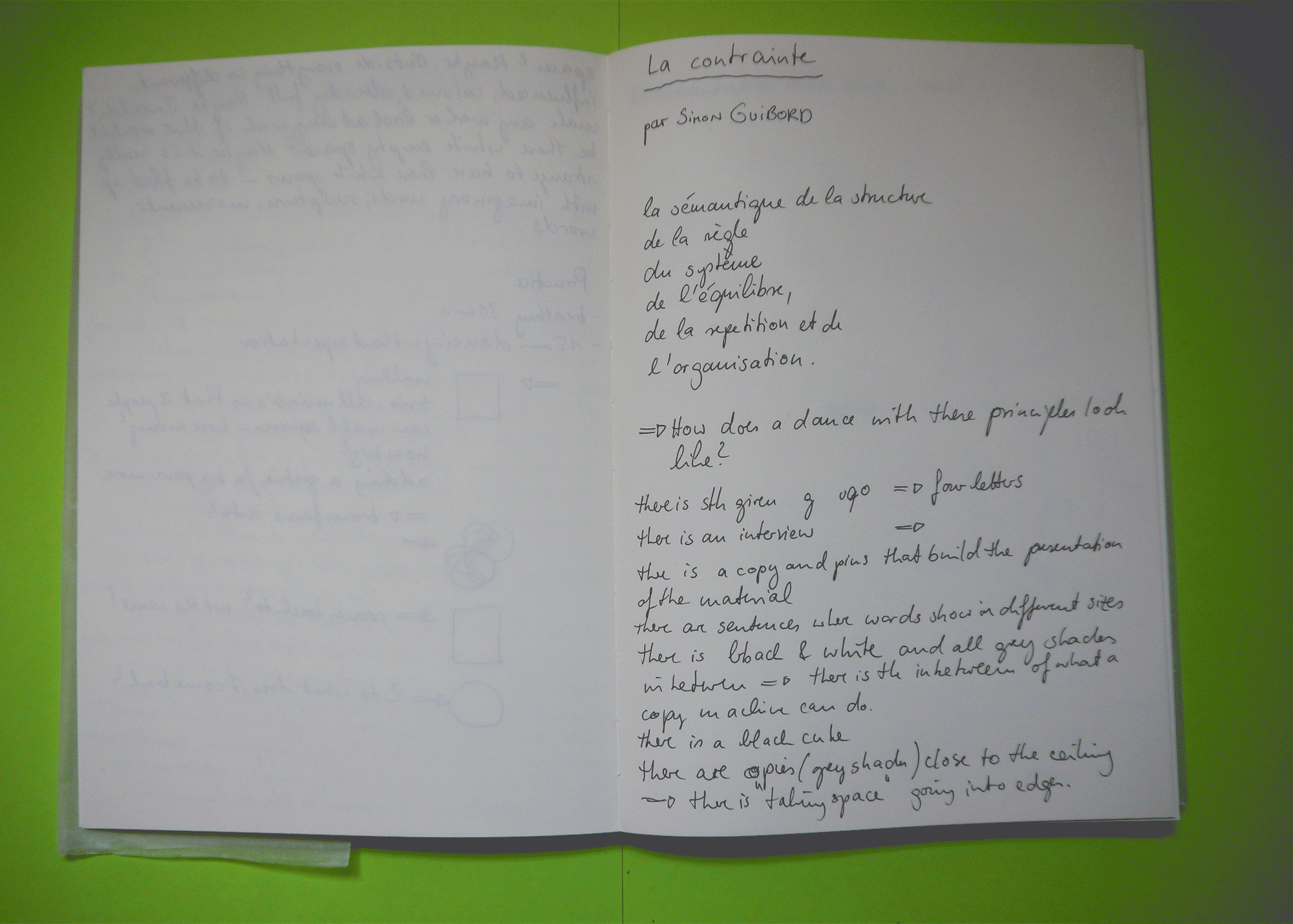 ---
October 15, 2020, Galerie UQO
Movement 4
First time alone in a studio since month. Working with meditation, automatic writing and archives. I got to know automatic writing as a practice of the surrealists but Sandra Huber showed me that "Automatic writing, is also called spirit writing, and introduces a hidden feminist media history that puts into question the role of the author, divisions between automaticity and creativity, legibility and illegibility, and the porosity of the (writing) body." Wow! I was doing this for years and I keep doing it but Sandra changed my way of seeing the practice and that changes the practice. Working with the exhibition La constraint of Simon Guibord exhibited at Galerie UQO in 2015. My first constraint was choreographing running and walking and … breaking the rules.