Based on the concept of Installation Chorégraphique 1: L'Instinct (1994)
New Format! Short Intensive!
With Marc Boivin and Sarah Williams
February 2nd to 6th, 2015, 1pm to 5pm
Espace Marie Chouinard
Cost: $75
Deadline for registration: January 22nd, 2015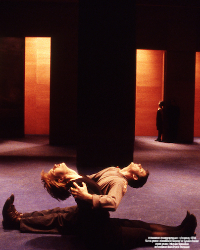 In collaboration with the Fondation Jean-Pierre Perreault (FJPP), the Regroupement québécois de la danse (RQD) invites professional dancers from Québec to enter the Jean-Pierre Perreault's oeuvre by revisiting the concept of Installation chorégraphique 1 : L'Instinct, a work created in 1994 at the Musée d'art contemporain in Montreal.
Jean-Pierre Perreault speaks of the choreographic installation as a way for allowing new "interpretation-time-space-action" interrelations where the performer, while maintaining a rigor of choreographic clarity, is expected to invest in an exploration of duration, of movements as of moments of immobility. This training will allow dancers to develop their practice through the integration of specific choreographic qualities inherent in the work of Jean-Pierre Perrault such as awareness of stage space, the importance of silence, the relationship to the other and to time. Orchestrated by the choreographer's precious collaborators, the course will be directed by dancer and educator Marc Boivin, with the assistance of dancer and rehearsal director, Sarah Williams, in collaboration with rehearsal director and artistic consultant, Ginelle Chagnon.
Information:
Dominic Simoneau : dsimoneau@quebecdanse.org
514 849 4003, extension 227
Please note that dancers from outside of Montreal have the possibility of being reimbursed for certain expenses.
Act fast, places are limited!
Some pictures from the workshop: